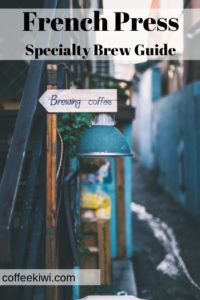 French Press coffee, it is smooth, rich, earthy and indulgent, and arguably the most low maintenance coffee brewing methods out there. If you have never had a French Press specialty coffee, then you are certainly missing out on one of the most simple coffees, and great tasting experiences. 
Coffee brewing with a French Press is a top favourite among coffee lovers all over the world, and there is no other brew quite like it. Maybe you are already having your daily French Press Specialty Coffee but are looking to make it a little bit better. 
Regardless if you are a pro or not, how can I make the best French Press specialty coffee? This made us do a little research.
Put simply, French Press Coffee is a cylinder pot with an in-built filter screen and plunger, when pressed down the filter presses hot water through the ground coffee, ready to be poured into a coffee cup and consumed. 
It is simple, easy to prepare and taste delicious. It is a device that was invented by Paolini Ugo in 1929, and is still a method used today by millions from around the world.
The French Press goes by many names, such as caffettiera in Italy, coffee plunger in the southern hemisphere, such as Australia and New Zealand, and in the U.S. it goes by the name as French press or coffee press, however it's true French name is cafetière à piston, most commonly referred to simply as cafetière.
French Presses are much more portable and self-contained then other methods of coffee making, therefore a popular method for travellers, office workers and those that are generally on the go frequently.
Not only that you can use this method in all seasons as French Press is commonly used to make a cold brew during the hotter months.
How to Make French Press Specialty Coffee?
Although many would say it is easy to make a French Press coffee, and some even considering themselves as pro's, it will actually take a bit of practice if you are to make the best French Press coffee, or at least up skill for those who are new to the method.
Whatever size French Press you use, the general rule of thumb is to follow a 1:15 ratio of coffee to water, which converts to about 3 tablespoons of coffee for every one cup of water. It can then be a case of trial and error to find the perfect ratio for your taste. 
Your first step would be to add the coarsely ground coffee to your french press and start heating up boiling water in your kettle, however, allow the kettle to sit for a minute or two as boiling water can scorch the ground coffee.
Once the coarsely ground coffee has been added you will then need to add boiling water into your french press, however, before you press the ground, you will need to let the coffee brew in the hot water to ensure the coffee brings out its full flavour.
It is recommended to add half the water into your french press and let it brew for one minute or so before adding in the rest of the water, letting it brew for a further three minutes. The longer you let the coffee brew, the stronger the taste. 
You can now press the plunger down gently using the weight of your hand to as far as the plunger will go. Finally you can serve and enjoy your french press coffee, which is recommended to do so immediately.
Everyone's taste preferences will be different, however with this simple process you will be sure to begin your journey on making the best French press specialty coffee.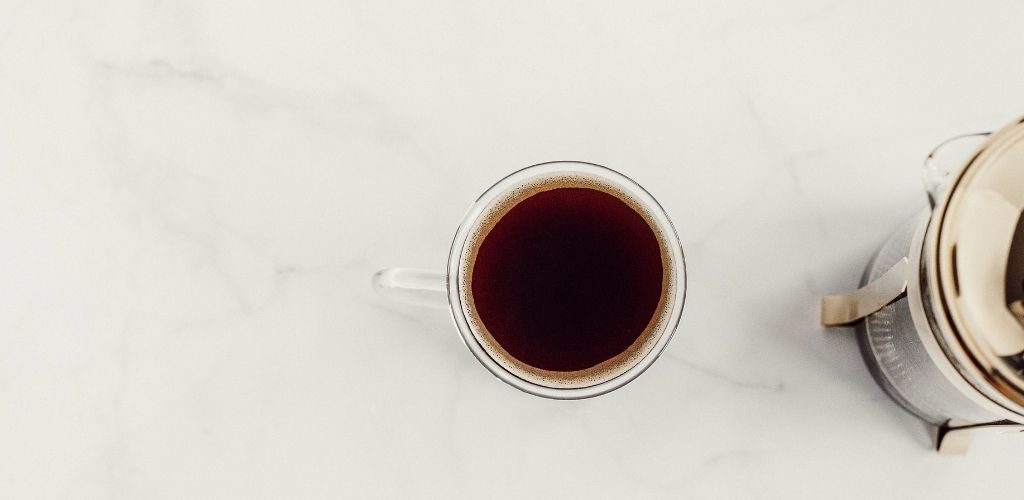 Tips on Making the Best French Press Specialty Coffee
Ensure your French Press is washed and clean, preferably straight after use.

Buy quality whole bean specialty coffee, and grind it just before use.

Follow a 1:15 ratio of coffee to water.

Always use coarse ground coffee to ensure best taste and no grit.

200 degrees is the ideal water temperature. 

Ensure you don't have uneven coffee ground.
How to Clean your French Press
No matter how good the coffee beans you use are, or the methods you take, if your french press is left dirty, you will be sure to heading towards a bad tasting, bitter coffee brew, therefore cleaning your french press and the filter is a must.
Due to the simple french press design, you will be happy to know that cleaning them is just as simple. It is recommended to disassemble your french press which is very simple for most designs.
However, most french presses are dishwasher safe too, but you will run the risk of breaking it, therefore, following the steps below, you will have a clean sparkling french press in a matter of minutes, and ready to be used again, break free.
Cleaning Steps at a Glance
Ensure you remove the plunger from your french press first.

Fill with warm water to loosen coffee at the bottom which will be easy if you have done this straight after use.

Pour the coffee contents over the sink, or use a mesh strainer so you can re-use the coffee ground for other purposes.

Add liquid soap to the water inside your french press.

Put the plunger back on and press down so the plunger is submerged in the warm soapy water.

You can pump it up and down a few times to remove stubborn oils and stains.

If there are still stains, use a small brush or dish cloth.

Rinse several times, and dry with a soft cloth or micro cloth.
Our 5 Favourite French Press Makers
What's a good french press coffee without a good french press coffee maker? Although there are many makes and designs of the French press, below are our five favourites.
Modern, stainless steel, holds 34 ounces of coffee, keeps coffee hot for hours while keeping the exterior cool, dual filter screen to eliminate coffee grounds in your brew,  dishwasher safe.
Classic, glass with stainless steel frame, BPA-free plastic handle, three piece mesh filter for top extraction, easy to clean, perfect for daily use, the more 'common' design in most households.
Artistic, rust proof material, insulated, connected press and frame, dishwasher safe, brews 34 ounces, perfect design for sharing.
Collectable, glossy enamel exterior, stoneware made, from the well-known French brand, resistant to odours/stains/chipping/cracking, stainless steel plunger and mesh, dishwasher safe.
Heavy duty, double wall stainless steel, handles a lot more wear and tear than glass french presses, comes in a variety of colours, holds 34 ounces of coffee, will keep your brew hot for hours.
What Specialty Coffee Can You Use with a French Press?
After reading this article we are sure you are ready to go out there and get yourself a french press and start brewing?
One of the key things in making the ultimate french press brew is of course the type of coffee you use.
A good batch of French press coffee requires a course and even ground, therefore, your best bet is to grind your beans at home with a grinder which you can find on Amazon for a pretty good price.
As we are making a specialty brew, we have come up with 4 single origin specialty coffee beans that will really make your french press brews barista quality.
At a Glance;
Sweetness
Roasted Fresh to order
Rich and full flavoured medium roast
Whole beans so you can grind at home
Money Back Guarantee
Grown in the Nyeri region, noted for its quality, this specially selected peaberry bean is said to contain all the best Kenyan flavour. Because the coffee cherry only produces one ovule, instead of two the resulting peaberry absorbs all the goodness, so giving a fine quality and special liquoring.
They love their coffee smooth & sweet and they have roasted this 100% Single Origin to a Medium Roast for the perfect balance of Sweetness, aroma, strength & body.
Sold as a whole bean this is perfect to grind into a coarse grind at home and serve with the french press.
At a Glance;
Premium Coffee
Tasting Notes 
Multiple Brew Options
Fresh Single Origin Coffee Beans
Gas Flushed Packaging
Their efforts in sourcing with strict standards from the world's top coffee growing regions and high elevations, only makes the finest coffee bean qualified for production. 
But it doesn't stop there; The beans are carefully inspected prior to and after the roasting process to ensure the coffee maintains a high-quality grade with a cupping score above 80+. 
This rigorous process requires hard work, precision, and a passion for coffee which they are dedicated to. So with every sip, you can experience an authentic taste of Luicana Coffee.
Luicana coffee can be brewed and prepared using different methods, including French press coffee, Aeropress coffee, filter coffee, pour over, and cold brewed.
At a Glance;
Single Origin Peruvian Coffee bean
Multiple Brew Options
Fair trade and Organic
Great Taste Award 2018 winner
A brand featured in previous articles, Coffee Masters is an independent, wholesale coffee company based in the heart of Worcestershire.
A winner of the prestigious great taste award in 2018, this Peruvian single origin lives up to expectations. A clean, well-balanced coffee with a citrus like acidity and a crisp finish.
They source their beans from around the world and pride themselves on their unique blends. Whether you want a rich full-bodied espresso with an indulgent dark chocolate finish or something sweet, nutty & fruity, they will have a blend that is right for you.
For those that are unsure this is an ideal option as it offers a variety of different roasting options so you can have a little play around and find what is best for you.
At a Glance;
Light, Medium, and Dark Roast options
Fair trade and Organic
Variety of origins
Variety of flavours to play with
Indulge your senses, kickstart your morning with 4, Whole Bean Coffee 4oz bags of single origin coffee. Cooper's is a small batch coffee that is roasted in small batches.
Once you've tasted these grade 1 single origin beans from Sumatra, Rwanda, Kenya and Ethiopia you'll know you've finally found one of the best coffees on earth.
They are pretty picky when it comes to their coffee beans, and they go to great lengths to find single-origin coffee beans that meets their exact standards.
What Grinder Should I use for French Press Specialty Coffee?
As we mentioned before, the grind is just as important as the bean, using a whole single origin bean will ensure you will have the correct course consistency in its most freshest time frame.
 So what grinder should you use for a french press specialty coffee? We generally recommend a manual grinder as you can take better care of your bean and ensure you are making a perfect amount without any going to waste.
We have come up with some of the best single origin manual grinders, without having to pay for an overpriced gadget which we find over on Amazon.
At a Glance;
Grinds Evenly
Superior Quality
Excellent Steering Performance
Compact Handling
Suitable for travelling and at home
The Hunt Brothers are renowned for their exceptional coffee accessories and consistently stand behind their products.
The conical ceramic burr is easily accessible and easily adjustable within seconds. With its unique stainless steel handle this grinder is built to last! This is unquestionably one of the most elegant grinders on the market! 
Makes a thoughtful gift for any coffee lover, especially with the additional bonus of the cotton pouch. 
Flawless and accurate grinding results can swiftly be achieved with this highly convenient product – a professional manual grinder who adapts precisely to every coffee lover need.
At a Glance;
Brushed Stainless Steel
Adjustable Grind Levels 
Compact and portable
Ceramic grind burr
The Henry Charles Coffee Grinder is very versatile and the adjustable grinder allows you to decide how large or small you want the ground to be – meaning it can be used for any type of coffee maker.
It has been designed so it can be completely taken apart, cleaned and then put back together in a very simple manner so it is all fresh for the next time you use it.
The ceramic mechanism has hard wearing qualities which give high performance. For a finer grind turn it clockwise, or for a more coarse texture, simply turn it anti-clockwise, perfect for a French Press brew.
This is currently the manual coffee bean grinder we are using and we love it.
At a Glance;
Easy to use
Superior Burr design
Unique retro wooden look
Coarse grind perfect for French Press
The retro manual Kalita coffee bean grinder mill makes you have precision control over the coarseness grind for any French Press brewing.
This crank style mill requires just a few turns on the handle and you're soon ready to brew up some gourmet coffeehouse specialties. 
Pure wood bottom base, super convenient and easy to operate. The hand crank grinder with Ceramic grinding core, can be washed easily, leaving no metal smell.
For a robust, flavourful cup of specialty coffee, the French press is one of the easiest ways to get it done at home or while on the move. 
It is easy to see that there are many different designs for French Press, hot brew and/or cold brew, and despite the time it takes to heat up the water, you will quickly become a french press coffee addict. 
Ensuring you follow the methods in this article, and you have the best quality specialty coffee, it will be a matter of no time before you start making the best French press coffee, impressing your fellow coffee lovers around the world.
What are you waiting for? Start your French Press brewing journey now!! 😉