Did you know London Bermondsey is one of the best places in london to buy coffee? In the past 5 years or so, London's specialty coffee game has really boomed. 
This is great for those who appreciate a good cup of coffee, whether you live in the city or are just visiting. 
More importantly, this has resulted in a very positive impact towards the coffee industry as a whole in the United Kingdom.
Read: What is Specialty Coffee and the Processes of Making it?
After living in London for almost 6 years, I have visited countless cafes and coffee shops around the city. In 2018 I moved near Bermondsey in South London. A new region of London that I was yet to explore. 
It was to my surprise that some of my favourite coffee destinations in London were now right on my doorstep, and are still amongst my favourite places to go for a coffee in London to this day.
If you are not lucky enough to live or work in this area, then you had better make the visit when the opportunity arises. It offers amazing food, music, culture, and best of all single origin coffee.
I spent the most part of a few weekends really exploring the coffee scene on Bermondsey street, and after many espressos, flat whites, and lattes later, we came up with five of the best destinations to buy specialty coffee in London Bermondsey Street.
Where is Bermondsey Street?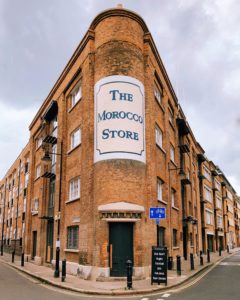 For those of you who are not too familiar with the city of London, or maybe just not very good with your general directions, Bermondsey Street is in the heart of Bermondsey, which is a neighbourhood located in the London Borough of Southwark. 
If you are coming from London Liverpool Street it is just a quick 20 minute tube journey, or for those who are keen, a 30 minute walk South.
If you are taking the London Underground from London Liverpool Street, you will need to jump on the Westbound central train, (red line) and get off at the next stop Bank. Change platforms at Bank and jump on the Southbound northern train, (black line) for one more stop to London Bridge.
Exit the train and leave London Bridge station where you will take a further short 5 minute walk along St Thomas Street, until you reach Bermondsey Street.
Where To Buy Specialty Coffee On Bermondsey Street
In our opinion, a good cup of coffee should have a balance in acidity, sweetness and bitterness, all in one sip. It should have a smooth flavour, without the taste of any burnt, bitter or raw flavours. 
This is what we were looking for to make our top picks, however, more importantly, we were looking for consistency, which is why we made several different visits to the same destination over a period of three separate weekends.
Although the coffee was our most important factor, we also took into account the service and atmosphere that came with it, to ensure the overall experience was perfect from the moment we walked in the door, to the moment we left. 
All of our final picks for the best single origin coffee in Bermondsey Street were within a similar price range starting from £2.60 GBP each (Great British Pound). 
So without further adieu, here are our five best destinations to buy specialty coffee on London Bermondsey Street…
199 Bermondsey St, London SE1 3UW, Open Until 6pm Everyday.
@watchhousecoffee
Even though we are in love with all destinations on this list, the watch house is arguably our favourite. With Bermondsey being their original site, they now have three locations around London, each one has their own unique touch and story behind them.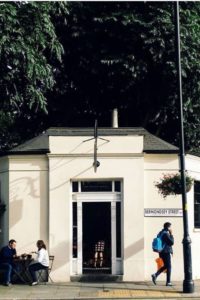 Only being 25 square feet in size, it was originally made as a shelter for the men guarding the church graveyard at night 200 years ago.
The watch house on Bermondsey Street sources their coffee from Ozone London, which is considered one of the best in the field.
They adjust their blend throughout the year, therefore, always producing the freshest beans. They are dedicated to providing the highest quality coffee, while being served by the friendliest and most knowledgeable people.
Their coffee is packed with a sweet caramel punch, complemented with hints of orange, nougat, and chocolate.
It is this well bodied, perfectly balanced, chocolaty, smooth espresso experience that led us to falling in love with the watch house, and with many more visits sure to be made.
1 Bermondsey Square, London SE1 3UN, Open Until 5pm Everyday.
@hej_coffee
Located in Bermondsey Square which is technically just off Bermondsey Street, Hej Coffee had to be included in this list.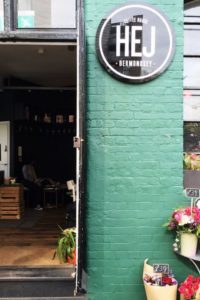 Established by a small group of coffee addicts and keen beans, there are now two locations in London, with the Hej Roasters only being minutes away from their Bermondsey location in Elephant and Castle. 
They craft specialty coffee in small batches, so it can't get much fresher for you than that, and it is definitely backed up by their amazing coffees, especially their espressos. 
Like many on this list, although relatively small inside, Hej Coffee has a very cosy and quirky feel to it, with great service to top it off and loads of speciality coffee retail to purchase and begin your own coffee journey.
Not only that, Hej coffee offers coffee enthusiasts the chance to take part in Hej workshops, whether you are a beginner or expert, they will help you with everything coffee.
The perfect community focussed coffee destination while at the same time serving great coffee
Fuckoffee –
163 – 167 Bermondsey St, London SE1 3UW, Open Until 7pm Everyday.
@fuckoffee
If the name has not already caught your attention, then the coffee certainly will.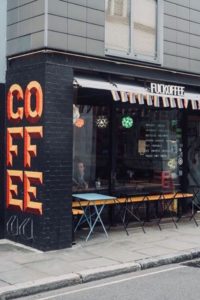 Fuckoffee is a refreshing change from your normal coffee shop, decked out in a mish mash of styles and colours, involving quirky wall hangings and colourful tables, with reasonable prices.
Fuckoffee delivers an extensive menu of organic coffee (and cake), which suits all kinds of coffee addicts.
They offer a range of quality brews that will leave you wanting more, especially with their addictive coffee grind that has been sourced from Papua New Guinea.
A great place to go for a coffee, and get some down time while reading a book or working on your laptop, and best of all you want get told off.
Be sure not to walk past Fuckoffee, with a name like that, how could you?
72 Bermondsey St, London SE1 3UD, Open Until 7pm, 10pm Wed-Sat.
@chapter_72
Chapter 72 was born out of a passion for great coffee in an all day and evening relaxed setting.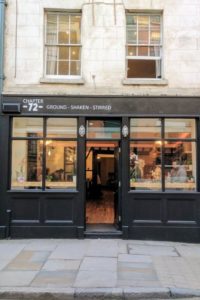 Owned and run by a Husband and Wife team, this independently run business knew the importance of choosing their roaster to ensure their coffees shared the same passion as it does with their consumers.
Their beans are ethically sourced from farmers from around the world.
Not only does Chapter 72 offer a great coffee brew, they are also one of the only places in London with an extensive coffee cocktail list too.
Chapter 72 took an extra step beyond the normal and have considered to 'break' the rules with their innovative and thought provoking coffee cocktails.
So if you can't make the visit by day, then be sure to make the visit by night, (or both). Chapter 72 really is a place for all coffee lovers to come and unite.
Black Swan Yard Coffee –
37 Bermondsey St, London SE1 3XF, Open Until 3.30pm, Closed Sat-Sun.
@blackswanyard
Tucked away behind London Bridge Station at the top of Bermondsey Street, Black Swan Yard has been considered to be one of London's best kept coffee secrets.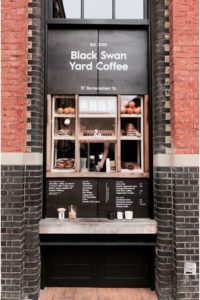 This hidden gem is a little different from our other destinations, as until recently, they were known for providing 'grab and go coffee', due to serving their coffee from a tiny 2 metre take away window hole, as well as being our only destination that is not open during weekends. 
However, today you will find plenty of shared seating within the e-bike shop that shares the same building. 
Black Swan Yard Coffee uses many guest coffees such as from Belleville, Campbell & Syme and Five Elephant.
They serve espressos and other coffees using their market leading coffee makers manufactured by the famous Technivorm, giving each coffee served its own personal unique touch, resulting in an unforgettable coffee experience. 
There is no shortage of passion going into these coffees, with many coffee lovers from around the world considering this to be one of London's top ten spots, and therefore, one of Bermondsey Streets best coffee destinations.
Conclusion
Bermondsey Street today is no doubt one of London's hidden new and upcoming gems. The food, culture and best of all coffee will be amongst some of the best you will experience in the entire city.
No matter what kind of specialty coffee drinker you are, or whatever kind of person you are, our five chosen best destinations to buy specialty coffee in London Bermondsey Street are sure to be the perfect place for you to find an impressive coffee brew. 
So do yourself a favour, the next time you are in London, go to Bermondsey Street, and check these places out, fall in love like we did.
Have you been to London Bermondsey Street?