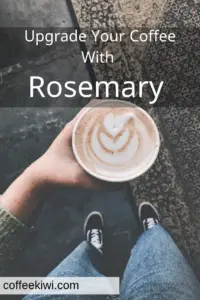 Specialty Coffee has come a long way in recent years, and although you can never be disappointed if you have mastered the art of the classic brews, such as your espresso, flat white or cappuccino, we are forever looking for a way to change up our routine and provide us with a nice little 'upgrade'.
Sometimes making a small change every now and again in your normal routine can really make a difference. Of course it is pretty normal to keep things easy in life and follow your normal habits, there is nothing wrong in that right?
Well sometimes these habits become boring, and all it takes is a small little change to feel renewed and refreshed again. 
We decided to take the same approach with our daily coffee brew, and after some looking around, we came across adding rosemary to your specialty coffee, which quickly grabbed our attention, so we decided to do a little research on Rosemary and how you can use it to upgrade your specialty coffee.
In a hurry?
Check out the French Press we use to upgrade our coffee
What is Rosemary?
Rosemary is a fragrant evergreen herb native to the Mediterranean, however, today can be found almost all over the world. It is used in many ways, including culinary dishes, perfumes and its potential health benefits.
It is fragrant leaves are needle like, and you may commonly see the woody herb bush blossom blue or purple flowers during the warmer months. Rosemary can live longer than 2 years, therefore can be used during many seasons.  
It is very tough and can withstand cool wet climates, as well as severe droughts, surviving on little water. A must have herb in any household.
What are the benefits of Rosemary?
Rosemary has a rich source of antioxidants and anti-inflammatory compounds, which is known to boost your immune system and improve your blood circulation, and therefore, giving rosemary its superfood status.
It has a range of possible benefits, with some including;
Digestion Improvement –
Although it is important to note there is not scientific evidence to support this claim, many people for many years have used rosemary to treat indigestion, with claims of positive results.
Memory and Concentration Enhancement –
The aroma rosemary provides can improve an individual's concentration, as well as performance, speed, and accuracy. Some research claims also highlight that rosemary can de stress and lighten a person's mood.
Neurological Protection –
Research conducted claims rosemary to be very good for your brain, as it holds ingredients that can fight off damage, and improve recovery from such experiences as strokes.
Prevention of Brain Ageing –
Although more studies are needed, rosemary has shown therapeutic abilities towards prevention of Alzheimer's, and suggest rosemary may hugely help prevent brain ageing.
Slowing Down Cancer Cells –
Rosemary is said to be very useful as an anti-inflammatory and anti-tumor agent. Some studies have shown that rosemary extract also slows down the spreading of breast cancer. Rosemary may even reduce the formation of cancer causing agents that can develop during cooking.
Protection and Promotion of Eye Health –
One of rosemary's major component (carnosic acid), has said to really help promote eye health. This can also really help common eye diseases that can affect the outer retina as we grow older.
How do I make a Specialty Coffee with Rosemary?
Following these ten simple steps below, you will be making a pretty good Rosemary brew in no time, even if you are still unsure, just give it a go, and see what you think.
Heat up your water in the kettle (filtered water for best results).
While you have your kettle boiling, go to your fresh rosemary plant and snip off a couple sprigs.
As we use a French Press for this method, we would recommend you do the same. Add two tablespoons of coffee into your press.
Remove the needle like leaves from the rosemary stalk, and chop or tear into smaller bits.
Add your cut up rosemary pieces to the ground coffee inside the french press.
Once the water has boiled, leave it for about a minute, to slightly cool.
Pour in the hot water from the kettle into your French Press.
Carefully give it a quick stir and let it step for anything between 1-3 minutes depending on personal strength preferences.
Now you can plunge the coffee using the weight of your hand until you reach the bottom.
And finally serve. We like to keep our coffee black, however, adding sugar goes great too.

Check Out The French Press We Use Over On Amazon

Rosemary recipe to upgrade your Specialty Coffee
Ingredients (per serving)
1 serving of freshly ground coffee
1-2 sprigs of fresh rosemary (must be fresh not dried)
1 cup of filtered water
Instructions:
Combine your ground coffee and sprig of rosemary into your coffee maker.
Prepare your coffee depending on what coffee maker you use, we recommend something like a french press, but there is no right or wrong.
Add boiled filtered water.
Serve hot.
Nutritional Information:
Serves 1
Calories per serving 2
Total Fat 0g
Cholesterol 0mg
Sodium 3.6mg
Total Carbohydrate 0.3g
Sugars 0g
Protein 0.1g
Vitamin A 0µg
Vitamin C 0mg
Calcium 3.6mg
Magnesium 3.6mg
Conclusion
Supercharging your morning cup of coffee with the addition of fresh rosemary, is an easy upgrade that will benefit your memory and overall health, plus it will bring you new flavours to your morning brew.
Many of us around the world drink coffee every day, and there is a substantial amount of research that has gone into both rosemary and coffee, so why not upgrade this daily routine and reap the benefits of not only your coffee, but what rosemary has to bring to the table too. 
Have you tried adding rosemary to your coffee? Maybe you have your own specialty coffee brew upgrade?
Let us know in the comments below. 😉