Right now the coffee industry is booming, and whether you are a casual coffee consumer, coffee addict, or someone who rarely drinks coffee at all, the majority of us have all heard the term 'Specialty Coffee'.
So what is a specialty coffee?
Specialty coffee refers to the entire process from the beginning farming stages to the very last moment in consumer consumption, and even right down to the packaging. Specialty coffee uses exclusive single origin coffee beans that are well prepared, freshly roasted, and perfectly brewed.
After several hours of research and countless articles, we decided to dive in and find out what Specialty Coffee really means, and the processes of making it.
In a Hurry?
Need one of the best Specialty Coffee Beans for your brews? Try the award winning Kona Gold Whole Bean Coffee

What is Specialty Coffee?
While you may hear a variety of definitions around the world, it was first used in 1974 by Erna Knutsen.
However, to this day all definitions share a common theme, suggesting the highest quality green coffee bean, which is then roasted to their best flavour potential by very skilled and experienced roasters, and then finally brewed perfectly to well established standards.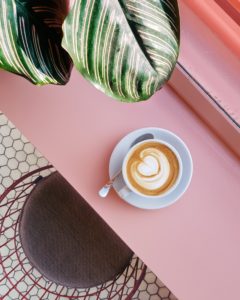 It is very important not to get confused between the terms 'Gourmet Coffee' and 'Specialty Coffee'. 
Gourmet Coffee has no standards that it must adhere too. In order to qualify as a Specialty Coffee, the beans have to go through the grading process.
Specialty coffee is coffee that's beans will have been graded by certified coffee tasters and will hold a score of over 80 on a 100 point scale by organisations such as the Specialty Coffee Association of America (SCAA). Every step is carefully monitored and understood from the growing stages to the brewing stages.
The beans are grown at the perfect altitude, at the right time of the year, in high quality soil, which is of course then harvested with care.
Specialty coffee offer many choices as you can buy the coffee by the place where the beans originated from, the type of roast, and/or by the blend designed for a particular flavour, and even particular times of the day it should be consumed.  
We have tried a few specialty coffee options below, which you can find over on Amazon, however, you may also find some great brands in your local coffee shop or retail stores.
Many countries around the world are beginning to get on the specialty coffee scene, and you will no doubt start seeing it boom in cities such as London in the UK, however, you will currently find some of the worlds best specialty coffee coming from countries such as Brazil, Ethiopia, Kenya, Indonesia and Columbia.
One noticeable trait of specialty coffee is that you will always find it to be stored and/or delivered as whole beans, which then needs to be ground before it is brewed. It will generally be roasted in small factories or independent stores, using a more traditional methods, which is then commonly sold where it has been roasted.
The Processes To Make Specialty Coffee?
1. The Coffee Farmer

In order to start creating specialty coffee you first need to have your coffee growing in select altitudes and micro climates, which are then nursed for many years by coffee farmers who have spent large portions of their lives perfecting their skills and reputation before their first harvest. 
These kinds of farmers are only devoted to quality over quantity due to the close attention and care required during the farming process. They will only pick coffee fruit that has zero defects and is at its peak ripeness to move onto the next stages in buying.
2. The Coffee Buyer
The coffee (in its green form), is then transferred to the coffee buyer who would most likely be certified coffee tasters. They will have a very trained, strict and unique pallet, in order to identify the quality in the coffee, generally measured via taste or cupping.
Through these testing and buying processes, the coffee buyer can distinguish whether or not the bean is at a specialty coffee standard.
This part of the process is very important as it is the early stages in making notes and final decisions of packaging, which in turn is very important as this information is then passed onto the coffee roaster in order to maintain the highest quality available.
3. The Coffee Roaster

Now the coffee is passed onto the coffee roaster, who can also be a certified roaster with a high degree of knowledge and possibly further course work and qualifications.
This part of the process is closely monitored which requires a high level of experience as it is treated as an art. During the roasting principles of heat transfer and coffee chemistry must be applied. Only then will this ensure high quality and specialty flavours in the final roasted bean.
4. The Coffee Barista
Now the specialty coffee is one step away from the consumer. They have now entered the retail environment. However, like all the processes, in order to make a specialty coffee this process has to be perfected.
Like the coffee roaster, the coffee barista to may also be certified with countless hours of hands on experience and course work. When dealing with specialty coffee, the barista is also fully informed as to where the coffee beans have come from and is flavour profiles.
If the specialty coffee is not brewed correctly, then the specialty coffee can be ruined and its full potential never exposed to that all important coffee consumer.
5. The Coffee Consumer

The final process in making a specialty coffee, and of course every coffee lovers favourite process, it's the coffee consumer. Yes that means you. 
When seeking out and consuming specialty coffee, you will be demonstrating and appreciating the commitment that was taken by those in all the processes who contributed to the life cycle of specialty coffee. 
The coffee consumers commitment to a higher standard of flavours and quality is why the farmer, buyer, roaster, and barista work so hard.
How it is Graded?
Coffee growing countries are now focussing on improving their quality at farm level and ultimately working towards improving their overall cupping score.
Specialty coffee is graded both before (green coffee) and after roasting (cupping).
The below table simply explains the scoring level of speciality coffee at a glance;
| | | |
| --- | --- | --- |
| SCORE | GRADE | SPECIALTY YES/NO |
| 90 – 100 | Outstanding | Yes |
| 85 – 89.99 | Excellent  | Yes |
| 80 – 84.99 | Very Good | Yes |
| Below 80 | No Grading | No |
Coffee is only considered specialty if it holds a score of over 80 on a 100 point scale by certified coffee tasters and organisations, such as the Specialty Coffee Association of America (SCAA).
Green Coffee Grading
Green coffee is graded on the basis of a visual inspection. This involves taking a number of samples of green coffee beans and counting through any deficiencies, which can be both Primary, e.g. sour beans, and Secondary, e.g. broken beans.
After this visual inspection, the coffee is only considered a specialty grade when it has no primary deficiencies, and less than five secondary deficiencies. 
Cupping Grading
Cupping involves roasting the coffee and brewing it, which is then put to the taste test. This is then graded on the basis of acidity, body, flavour, and aroma which is assigned to specific certified coffee tasters.
What is the difference in Specialty Coffee and Commercial Blend?
For years there has always been the debate, is a specialty coffee better than commercial coffee? 
Specialty Coffee is much different than your commercial blends in a sense that it is grown at higher elevations, are traceable and processed carefully once harvested. 
Each step from the beginning growing stages to the final brewing stages are monitored and understood to improve the quality of the coffee that you will just not find in commercial coffee blends.
At first glance, you will also find that Specialty Coffee will be packaged differently to a commercial blend. It is generally stored or delivered as a whole bean, either in small batches or in bulk, therefore, you will need to grind your own beans before brewing.
Commercial coffee blends are generally stored in little glass bottles or packed tins, already pre ground into a medium to fine coarseness. It would have been roasted and packed in large roasting plants under big commercial brand names, which are easily found in supermarkets on a mass level.
Due to Specialty Coffee being roasted generally in smaller stores or factories, there is considerably more options available than your commercial blends, and will be sold where it has been roasted using more traditional methods and technology. You can purchase Specialty Coffee by roast, blend and from where the bean has originated from. 
Commercial coffees offer a much more limited choice of blends and roasts, with a very small possibility of coming from a single origin bean, that has been unblended.
Coffee Cherry – Specialty vs Commercial
Right from the beginning of the coffee process, specialty coffee cherry pickers are trained and taught to only pick the fruit that is perfectly ripe, no green or black cherries are allowed to be used with this grade of coffee. 
On the other hand, with your commercial coffee blends, during the cherry picking stages, any cherry will be used, regardless of any blemishes, they will use green (under ripe), and black (over ripe) cherries. There are no control checks in place during this process, and although commercial blends reduce waste, poor quality cherries will be used which will result in a bitter coffee. 
Flavour – Specialty vs Commercial
Specialty Coffee contains deeper and a variety of flavours. You can choose the flavour based on where the bean has been grown, by its roast, and by its blend. These are all unique specialty flavours.
Commercial coffee is blended to suit a wider palate, and has a more general flavour, without the variety and deeper flavours. There is a limited selection of roast and blend, and is not based on where it has come from.
Specialty Coffee You Can Use?
Brown Bear Coffee values its quality and reassurance of care and attention that has gone into producing it.
You're probably just like us and love your coffee. The smell, the taste, the 'kick' – it's all about the whole coffee experience. 
Brown Bear is about making that experience even more special with delicious, flavoursome coffees that we know you'll just love.
They put all their effort into making every cup of Brown Bear that you enjoy, the most delicious and special coffee you've ever tasted. 
If ever you feel let down by the quality of their coffee, they promise to do their very best in making it right.
100% PURE KONA COFFEE – Although some brands claim to be Kona, they often contain as little as 10% of real Kona beans mixed with those of a lower grade.
These beans are 100% authentic and meticulously cultivated in the Kona district on the Big Island, which has the perfect microclimate for growing coffee beans.
HIGHEST GRADE BEANS – Their Medium/Dark Roast Whole Beans are rated Extra Fancy by the Hawaii Agricultural Society, the highest grade possible. A rating, based on the size, shape, moisture content, and defect ratio of the beans.
A BETTER CUP OF COFFEE – All-natural Kona Gold Coffee Beans are hand-picked, wet-method processed, sun-dried, and air roasted. This process ensures a clean-tasting and highly aromatic cup of coffee. 
Their full city roast (medium/dark roast) combines crisp, fruity notes with creamy tones of molasses and brown sugar for a simply remarkable cup of coffee.
MOUNTAIN GROWN ON A SINGLE ESTATE – An independently-owned farm is the sole source of beans for the Kona Gold full city roast. Grown in the shade of both Macadamia Nut and Ohia trees, these premium Arabica coffee beans yield a deliciously rich coffee like no other.
Green Specialty Coffee (unroasted/raw)
Need it un-roasted or raw? Try the Single Origin green coffee bean from Single Nicaraguan Estate
At a glance;
Single Origin
Unroasted
Premium Arabic Bean
Specialty Graded
Fully washed and naturally dried
Arabica coffee grown in the mountains of Jinotega, Nicaragua. 
Over the years, they have perfected their processes to ensure the finest specialty coffee is produced under sustainable farming practices. 
The green coffee beans are exported directly to their Texas facility where they are maintained in Grain Pro bags in a temperature controlled environment. 
These unroasted (raw) green coffee beans are perfect for at-home coffee roasters. 
Recommended roast profile is medium (also known as city or regular) in order to highlight the delicate nuances of the bean. 
Cupping notes describe a medium body, low acidity, smooth and sweet with citrus notes.
Specialty Coffee Gift Sets
Can't decide? Try the New Ground Coffee Set with a variety of 10 different single origin bean options.
At a glance;
High Quality
Ten 60gram options from around the world
Hand Roasted
Packed in traditional coffee sack
Includes information booklet
Ideal gift
High Quality Ground Coffee. Your collection will consist of 10 fantastic tasting coffees from around the world.
The collection includes coffee from Ethiopia, India, Kenya, South Africa, Indonesia, Vietnam & Brazil, Colombia, and Costa Rica.
Hand Roasted, Stamped And Packed. All the specialty coffee is hand roasted in Yorkshire, UK, and holds unique flavours, aromas and textures.
The beautiful design and high quality coffee makes it the ideal gift for anyone on any occasion. You will not be disappointed especially if you are a coffee lover. Each pack of coffee comes complete with preparation instructions.
Looking for a gift set deal? Try Discover Coffee Gift Set, and receive £5.00 off your first treasure truck order.
At a glance;
3x high quality Specialty options
Great Value
Single Origin beans
Perfect gift
A whole bean coffee gift / discovery box showcases the superb single-origin coffees of Source Climate Change Coffee. 
Not only are Source the first coffee brand with its own carbon credit number, they only offer the finest single-origin, organic coffees they can find. 
This pack features 3 different packs of Source's whole bean coffee with a 227g bag of the Uganda Mount Elgon Cloud Forest whole bean coffee which is full-bodied with a rich chocolatey, toasty flavour. 
A 227g bag of the Tanzania Kilamanjaro whole bean coffee, a luxurious rich espresso with chocolate, nuts and citrus.
And finally a 227g bag of Mexico Sierra Cloud Forest whole bean coffee which is a smooth, medium roast coffee with a delicious praline nuttiness. 
The coffees come simply, but elegantly packed in a little branded gift box with black tissue paper lining sheet. Makes a perfect gift for the coffee lover or for yourself. 
The coffee in this pack is whole bean, ready to be ground at home, making the freshest, tastiest coffee possible.
Is It Worth Paying More For?
Because of the attention and care that is required with Specialty Coffee, it is generally sold at a premium and brought by coffee roasters and/or coffee traders directly.
An increase in time and money has been invested into this standard of coffee, right from the beginning. Often the cherry pickers are paid a higher wage as work is more difficult due to the more hands on attention to ensure they are only using the perfect cherries, however, this all filters down to the extremely high quality coffee that you will eventually consume, therefore, worth paying for.
Coffee drinkers in recent years are now interested in where their coffee was grown, what blend it is, and how its been roasted, therefore, investing more time and money into their coffee. 
By spending that extra dollar/pound or two, you will be able to get this kind of information from your coffee, like many things in today's market, you definitely get what you pay for, and we couldn't agree more with Specialty Coffee 😉
How Long Does Specialty Coffee Last?
Different types of coffee will have slightly different shelf lives, which depends on how the coffee was grown, harvested and processed.
Freshly roasted Specialty Coffee beans last up to around 3 months before you start losing its quality, however, this time frame can vary across different roasts.
Storage also plays a key role in the shelf life of your specialty coffee beans.
Once you have ground your beans, generally freshly grounds will last a few weeks to up to a month, therefore, only grind what you need to avoid wastage.
Why Does Specialty Coffee Lose Shelf Life?
As this high quality coffee is packed full of delicate oils, aromas and flavour molecules, once the bean has bean roasted, these molecules will start to come to the surface which causes some of these oils and aromas to be released.
When the bean is then ground, all of this will be exposed to the air, releasing even more oils and aromas, therefore, becoming stale a lot quicker than a whole bean.
Green coffee or unroasted specialty coffee can last up to 2 years. This is due to the bean being in its raw natural state, and how it arrives to the roaster.
How Should You Store Specialty Coffee?
While your Specialty Coffee is being stored, you really need to avoid moisture, and minimize heat, light and oxygen. All of these factors will affect how long your Specialty Coffee lasts.
We like to store our coffee in two ways;
1.Opaque bag with a seal.
2. Air tight containers or jars (remember to keep out of direct light)
We recommend storing in your kitchen cupboard, or somewhere that is not hot and is not exposed to direct light or any moisture.
Tips on how to make your Specialty Coffee last;
Buy your coffee as fresh as possible –
Purchase from a local roaster, or ensure your packaging has a roasting date.
Ensure you buy Specialty Coffee as a whole bean –
Grinding from home will give you the freshest flavours.
Only Grind your beans when you need to –
You may want to grind in bulk to save time, however, this will be a quick way to lose the freshness of your valuable coffee. Only grind what you need.
Buy less, more frequently –
Don't buy more then you can drink, the last thing you want to do is not be able to get through your Specialty Coffee before its used by date. 1-2 bags will ensure you maintain a consistent freshness.
Do not store in fridge or exposed to moisture –
Storing in the fridge can affect flavours and aromas of your Specialty Coffee, you can freeze your beans, just ensure they are packed tightly so moisture cannot get in.
How to Tell if your Specialty Coffee has gone off
It is a little too late if you have brewed up a perfect Specialty Coffee brew, only to find that the taste is no right, and only realising after that your precious coffee has actually past its used by.
However, spotting specialty coffee that has gone off is actually pretty easy to spot once you know the points below.
Taste –
Starting with the most obvious give away, if you have a coffee that lacks flavour and body, then this is a share sign of stale specialty coffee that has gone off. Specialty coffee should be full of flavour, richness and full body. 
Smell – 
Specialty Coffee is known for its strong smell. However, like taste, if your beans lack smell when starting your brew, then this too is a sign your Specialty coffee is nearing its end. You should be able to smell your beans, even through packaging in some cases.
Appearance –
Fresh Specialty Coffee beans have a beautiful glossy appearance due to the quality oils and aromas that comes with Specialty coffee. If your beans look dull and dry, then your Specialty coffee has gone off.
Residue –
Have you ever picked up a fresh handful of Specialty coffee beans? When you do this to a fresh bean you will find that a residue will be left on your hands, which is also due to the fresh oils. If you can't see this in appearance try feeling them, no residue, then I am afraid your beans are going off.
The Bag –
Ensure the coffee bag you purchase your specialty coffee has an air valve. After roasting, your beans need to continue to release their gases to keep fresh, without this air valve, your beans wont stay fresh, and will go off.
Conclusion
It is easy to say different countries have their own way of explaining specialty coffee, however, it is clear to see that everyone shares the same ideas, that specialty coffee holds a tremendous amount of quality and unique flavours, using single origin beans from specific parts of the world.
Next time you buy a specialty coffee, stop and think for a second, the journey, the processes that the coffee your holding in your hand has been through. 
From the humble farmer in a specific part of the world, to the highly skilled coffee buyer, who will then pass it to the all important coffee roaster, which then heads to the coffee barista, and finally to you, the consumer.
If you are after a cheap and cheerful coffee, then commercial blends will suit you, however, if you have made it this far, here on coffeekiwi.com, we only want to show you a fantastic high quality coffee, therefore, Specialty Coffee is worth paying for.
Have you had a specialty coffee before? If you are ever in London, check out our other article, The Best Destinations For Specialty Coffee In Bermondsey Street London.
The Specialty coffee we are currently using is  Kona Gold Whole Bean Coffee which you can find on amazon, let us know what you think of it in the comments below?