In recent years, the V60 has become increasingly popular. This new specialty brew will deliver strong clear flavours and aromas, allowing all types of specialty coffee lovers to enjoy the subtlest notes in their coffee.
The V60 is one of specialties favourite brewing coffee methods, and within 3 minutes you can brew an incredibly tasty coffee from the comfort of your home. So let's dive in and find out how you can make specialty coffee with a V60.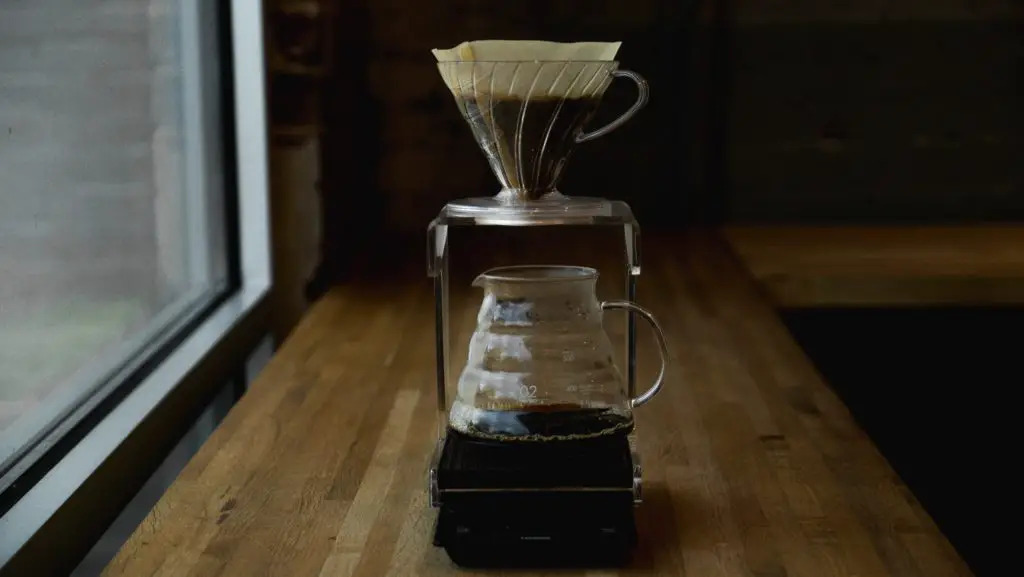 The V60 coffee maker, or sometimes referred to as the V60 coffee dripper is a specialty coffee brewing method made by the company Hario, hailed from Japan, also known for their fine design and glassware.
The name is simple and was given to this piece of equipment due to its V shape and 60 degree angles, therefore, the V60. 
It's perfect V shape, with vortex like ridges along the inside help with the air flow during the brewing method. Filter paper is inserted into the V shape cone, where the coffee grind will then go within. It has a slightly larger hole than most other coffee drippers, which ensures the ground coffee inside the cone V shape is in a thicker layer.
When pouring the water into the V cone, it flows to the centre, extending the amount of time it is in contact with the specialty coffee grinds. This results in better flavours even in a small amount of servings, as well as providing a better coffee extraction as the brewed coffee drips into your cup.
The V60 can come in a variety of materials, including ceramic, plastic, glass and copper which is one of the reasons it has become so popular in the industry, as this variety offers a solution for any budget or purpose.
How to Brew with a V60 ('easy' step by step guide)
What you will need:
V60 Hario Coffee maker/dripper

Cone shaped filtered paper

Kettle, or recommended

gooseneck kettle

Specialty Coffee

Grinder (manual or electric)

Scales

Timer

Cup/mug
Step 1.
Place the V60 coffee maker on top of your cup/mug.
Step 2.
Place filter paper into the V shape cone.
Step 3.
Heat up your water to the right temperature and rinse your filter paper (discarding this water from your cup).
Step 4.
Place equipment on scales. Add dose evenly into the coffee dripper.
Step 5.
Settle and distribute the coffee grind evenly. Tare scales and start your brewing timing.
Step 6.
Pour water over coffee and let it pre-infuse for about 30 seconds.
Step 7.
When the coffee begins to swell and/or stop bubbling, pour the remaining water evenly onto coffee in a circular motion until the desired water weight has been added.
Step 8.
Gently and evenly stir the brew, and allow remaining water to drip through the coffee.
Step 9.
Enjoy!
Grind Setting : Medium to Fine.
Brewing Time: 2-3mins
Brewing Ratio: 6-8g coffee per 100ml water (1ml water = 1g water)
Although there are actually a variety of brewing methods with the V60, this method works surprisingly very well. It is a pretty general method, therefore, perfect for beginners and even an option for more experienced specialty coffee brewers, as slight changes can be made very easily.
This step by step method is suited for all types of specialty coffee beans and V60 coffee makers.
This guide will leave your coffee with a slight acidity for the duration of the sip, with a clean ripe finish.
How to Brew with a V60 ('advanced' step by step guide)
What you will need:
V60 Hario Coffee maker/dripper

Cone shaped filtered paper

Gooseneck kettle

(not a normal kettle)

Specialty Coffee

Grinder (manual or electric)

Scales

Timer

Cup/mug
Step 1.
Place the V60 coffee maker on top of your cup/mug.
Step 2.
Preheat the filter and brewer thoroughly with hot water.
Step 3
.
Load your freshly ground specialty coffee into the filter, and make a hole about 3com in diameter and 2cm deep in the centre of the coffee grounds.
Step 4.
Pre-infuse the grounds by pouring the hot water in the centre of the hole and circling outwards, ensuring the whole surface is wet.
Step 5.
Start a 3 minute timer and wait 30 seconds for the pre-infusion.
Step 6.
Now pour hot water in concentric circles for about 40 seconds, making sure not to breach the outer edge of your grind.
Step 7.
Stop pouring for about 30 seconds, then repeat step 6.
Step 8.
Let the mixture drain for the remaining time on your timer and remove filter.
Step 9.
Enjoy! 
Grind Setting : Medium to Fine.
Brewing Time: 3-4mins
Brewing Ratio: 27g for 360ml of brewed specialty coffee
This method is slightly more time consuming and requires a bit more concentration, however, still shares a similar format to the more easier brewing method.
The combination of a slower and meticulous pour rate puts less stress on your coffee, resulting in a quality specialty coffee brew.
If done right, this guide will leave your coffee less acidity and less bitter, leaving you with a clear, crisp, juicy body.
What Grind Setting Should You Use?
We recommend that a medium to fine grind would be the ideal grind setting to use when brewing with the V60, however, it is important to note that this can make big changes to your final brew, so it will come down to personal tastes and preferences.
A course (medium) grind allows the water to pass through the specialty coffee with minimal resistance, which will mean the brewing time of a coarse grind will be longer to allow the flavour to be fully extracted.
Need a manual course coffee grinder?
A fine grind results in smaller particles, therefore, exposing more surface area to the water that the coffee is brewing in, which will dissolve into the flavours more easily and quickly.
Specialty Coffee that goes well with the V60
Although the V60 was designed to be able to use basically all kinds of coffee, there are certain types of coffee (specialty coffee in our case), which are perfectly matched with the V60, and our step by step how to make specialty coffee with a V60 guides.
Like most of our specialty coffee here on coffeekiwi.com, we would recommend to use a light to medium roasted coffee, as they generally feature a cleaner and brighter level of acidity with a lighter body and texture, especially if the beans you use have gone under wet processing, also known as washed coffee.
At a Glance;
Sweetness
Roasted Fresh to order
Rich and full flavoured medium roast
Whole beans so you can grind at home
Money Back Guarantee
Grown in the Nyeri region, noted for its quality, this specially selected peaberry bean is said to contain all the best Kenyan flavour. Because the coffee cherry only produces one ovule, instead of two, the resulting peaberry absorbs all the goodness, so giving a fine quality and special liquoring. They love their coffee smooth & sweet and they have roasted this 100% Single Origin to a Medium Roast for the perfect balance of Sweetness, aroma, strength & body. Sold as a whole bean this is perfect to grind into a coarse or fine grind at home and serve with the Hario V60.
At a Glance;
Premium Coffee
Tasting Notes 
Multiple Brew Options
Fresh Single Origin Coffee Beans
Gas Flushed Packaging
Their efforts in sourcing with strict standards from the world's top coffee growing regions and high elevations, only makes the finest coffee bean qualified for production. 
But it doesn't stop there; The beans are carefully inspected prior to and after the roasting process to ensure the coffee maintains a high-quality grade with a cupping score above 80+. 
This rigorous process requires hard work, precision, and a passion for coffee which they are dedicated to. So with every sip, you can experience an authentic taste of Luicana Coffee.
Luicana coffee can be brewed and prepared using different methods, including French press coffee, Aeropress coffee, filter coffee, pour over, and cold brewed.
At a Glance;
Single Origin Peruvian Coffee bean
Multiple Brew Options
Fair trade and Organic
Great Taste Award 2018 winner
A brand featured in previous articles, Coffee Masters is an independent, wholesale coffee company based in the heart of Worcestershire.
A winner of the prestigious great taste award in 2018, this Peruvian single origin lives up to expectations. A clean, well-balanced coffee with a citrus like acidity and a crisp finish.
They source their beans from around the world and pride themselves on their unique blends. Whether you want a rich full-bodied espresso with an indulgent dark chocolate finish or something sweet, nutty & fruity, they will have a blend that is right for you.
For those that are unsure this is an ideal option as it offers a variety of different roasting options so you can have a little play around and find what is best for you.
Light, Medium, and Dark Roast options
Fair trade and Organic
Variety of origins and flavours
Indulge your senses, kickstart your morning with 4, Whole Bean Coffee 4oz bags of single origin coffee. Cooper's is a small batch coffee that is roasted in small batches.
Once you've tasted these grade 1 single origin beans from Sumatra, Rwanda, Kenya and Ethiopia you'll know you've finally found one of the best coffees on earth.
They are pretty picky when it comes to their coffee beans, and they go to great lengths to find single-origin coffee beans that meets their exact standards.
Where to Buy V60 Coffee Makers?
At a Glance;
Dishwasher safe
Easy to use
Provides superior brewing
Ceramic body
Heat retention
The Ceramic V60 provides everything you need to savour the pour-over coffee experience of Hario, just add your favourite fresh grind. 
The manual brewing method offers complete control over brewing time and temperature, so your coffee is prepared exactly the way you like it, without the bitterness of French press. 
Works well with V60 size 02 paper or cloth filters, and the Ceramic body is durable which helps prevent heat loss during the brewing cycle.
Made for and loved by coffee aficionados everywhere!
At a Glance;
Heat Resistant
Durable
Easy to use
Easy to clean
Professional experience
Hario Stainless Steel V60 coffee maker is a perfect addition to your specialty coffee brewing journey, creating a high quality specialty coffee brew.
The Stainless Steel V60 is much more heat resistant then its plastic form which is especially important with specialty coffee brews and their overall quality.
Easy to clean and should last you for many years and many brews ahead.
At a Glance;
Lightweight
Sturdy
Much cheaper option
Perfect for travel
Comes in a variety of colours
The Hario V60 01 Coffee Dripper, is a sturdy, lightweight pour-over coffee maker, perfect for travel. 
Manual brewing method allows you to choose your ideal brew time and temperature, ensuring a perfect cup of coffee. 
Coffee flows through the cone directly into your cup or coffee pot. The V60 coffee dripper controls the flow, timing and temperature of the water.
At a Glance;
Includes filter mount, jug, portion spoon, and filter papers
Provides superior brewing
3-4 cups of coffee
Perfect gift pack set
This is an ideal introduction to the world of filter coffee. This set includes everything you need for a high quality specialty coffee brew.
The set is a classic made by Hario, with a 60 degree tilt, the groove guide design and large opening at the top providing superior brewing. 
The glass server belongs to the V60 series which was awarded the Red Dot Award, as well as the set combining an attractive design with years of expertise on the market coffee filter.
At a Glance;
Copper v60 dripper 02 size
High heat retention
High durability
1-4 cups of coffee
If you are looking at alternative brewing methods and wish to brew you coffee in style, look no further than the V60 in copper. 
The Copper metal is known for its heat conducting properties and it contributes to the all important heat retention while brewing. 
In addition you can brew at least 2 to 4 cups of coffee without ever worrying about the copper dripper being broken due to its high durability.
What is the Difference Between V60 and Chemex?
Due to the many methods to brew Specialty Coffee in today's industry, many people get confused. A common question we are asked is what the difference is between a V60 and Chemex coffee maker.
Although both methods make fantastic Specialty Coffee, the main differences between a V60 Pour Over and a Chemex is grind size, filter paper thickness, amount of coffee made, how long it takes for the coffee to drain and the ultimate taste of the coffee.
They are rather different to each other, and you may end up wanting both or picking just one, depending on your coffee preferences.
What are the Pros and Cons of the V60
Pros:
Easy to learn

Very affordable

Great for both the beginner and advanced brewers

You can tweak the strength by using different filters/pouring at different speeds

Transportable and travel friendly
Cons:
It takes a few minutes to make a cup of coffee

It takes a while to master the pour

You will need a good coffee grinder

Requires paper filters
Although cleaning your V60 is easy, and may seem obvious, if not done correctly or frequently enough, after a few years of using your V60 coffee maker, the bottom of the hole can build up some pretty nasty coffee stains.
Here is a simple step by step guide you should follow after every time you have used your V60 coffee maker to ensure optimal cleaning, instead of throwing it in the dishwasher and calling it a day, risking damage to your V60.
Step 1.
Carefully wipe inside the V60 with a damp cloth to remove loose grounds.
Step 2.
Add vinegar and water to cut through any left over oil marks.
Step 3.
Wash again with warm soapy water using a dish brush or sponge
Step 4.
Dry thoroughly
Learning how to make a specialty coffee with a V60 can feel quite intimidating. As we seek to develop resources for helping inform home brewers and coffee enthusiasts alike to get the most out of their brews, it is important to learn from others in the specialty coffee community.
The V60 brewing method is a fantastic brewing method, allowing your specialty coffee flavours to shine through. It is practical for everyday use, as well as being perfect for travel wherever you go.
Providing this article and and the easy step by step guides, for anyone who enjoys brewing specialty coffee from home, the V60 certainly is a fantastic investment. 
With the vast variety of specialty coffee beans out there and the many types of V60 coffee makers on the market, we hope that after reading this article you have gained a better grasp of brewing specialty coffee with the V60.
Read: Brewing Specialty Coffee with a French Press the How to Guide
Feel free to leave any questions or comments below… and happy brewing 😉