Perfectly ground coffee beans can be the difference between a high quality coffee brew, and a low quality coffee brew.
In order to ensure you are consistently making a high quality cup of specialty coffee, it may come down to the quality of the coffee grinder you are using.
The Niche Zero is a crowd sourced grinder that promises to come with zero retention. It has been designed around 63mm conical burrs, providing you a consistently high quality single dose of coffee grounds.
With so many other coffee grinders available on the market, it can be hard to know if this grinder is right for you.
This is where we come in.
We decided to get our hands on our own Niche Zero coffee grinder, so we could give you the ultimate review.
In this article, we will walk you through the Niche Zero to save you the time and money, so you can make the right choice.
In a hurry? Order Niche Zero Coffee Grinder Here.
What are the Niche Zero Main Features?

At first glance the Niche Zero has a very simple, stylish look, available in either midnight black or pure white. 
It has a fairly solid build and you can straight away tell it has been made by someone who knows what they are doing.
So let's dive in and discuss the main features of the Niche Zero coffee grinder.
Unboxing the Niche Zero Coffee Grinder
Niche Zero Main Features
– Design
The Niche Zero is a grinder composed of sleek aluminium casting, and finished off with solid hardwood trim that has been designed for single dose coffee.
Single dose coffee means that you are only grinding what you need.
– Size
Due to not having a hopper, the Niche Zero is a reasonable size, especially compared to some commercial grinders.
At about 31cm tall, it will nicely tuck away on your kitchen bench, or sneak under your kitchen cupboards, without feeling bulky and in the way.
– Zero Retention
Niche Zero Grinder's unique design means that virtually no grind is retained. Only fresh grind is delivered, ready for your next aromatic brew.
This means you are able to extract all the flavour from every bean, and never allow yourself to waste extra coffee beans.
– Infinite Grind Adjustment
You have complete control over your grind size and its consistency. Simply move the grind dial to your chosen setting, from espresso right through to French press and beyond.
Niche coffee wants to give you the freedom to experiment with all coffee types so you can find the brew that's perfect for you.
– 63mm Conical Burrs
The Niche Zero uses hardened steel 63mm conical Mazzer Kony burrs. These are not cheap burrs, and the Mazzer Kony is a commercial coffee grinder.
– Noise
Grinding coffee can be a pretty loud process.
The Niche Zero has been designed with an optimal burr speed, giving you the best grind quality at a quiet 72dB.
– Motor
The Niche Zero is powered by a high quality permanent magnet DC motor which is geared down to grind at a speed much slower than the speed of the motor.
This is in order to keep the noise down, and to increase grind power, as gearing down the motor produces torque.
– Total Cord Storage
Like all successful coffee making accessories, accessibility is key for quick and efficient grinding.
Many grinders that are available to buy are bulky, taking up a lot of space and often not fitting under average cabinet heights (50cm).
The Niche Zero Grinder comes with an innovative cord storage in the base of the machine.
Meaning you can safely and efficiently store the electrical cord for any environment.
– Dosing/Grind Cup
While the hopper is replaced by a simple lid over the burrs, instead of the portafilter cradle & a push start button (meaning that you push the button with the portafilter to start & stop the grind) you have a dosing cup, which fits into 58mm portafilters.
How to use the Niche Zero Grinder?
The Niche Zero is simple to use and only requires a power source to operate, with one simple on and off switch on the side.
Check out the video below for a quick tutorial on how to use the niche zero grinder.
Step 1.
Weigh the exact amount of coffee beans you need to use for your next coffee brew.
Step 2.
Add coffee beans to the funnel and close the safety interlocking lid.
Step 3.
Switch on and watch all your beans being ground by the conical burrs and into your grind cup.
Step 4. 
Switch the grinder off and enjoy!
Is the Niche Zero Grinder worth the price tag?
Costing around £499 (GBP), some consider this to be expensive, especially against other coffee grinders you may find on the likes of Amazon.
So we get asked a lot, is it worth it, and what do you get for paying the extra money?
Straight away when using the Niche grinder for the first time you realise you have a very capable espresso grinder.
It is an easy to use single dose coffee grinder, and has very little waste, meaning what you put in the grinder you will get out, and therefore, not wasting a single bit of the coffee bean.

It is perfect for studio usage and/or home espresso usage too.
Now if you are on a very tight budget, personally I wouldn't dive in and make the Niche Zero my first purchase, without at least doing my home work first – but then this is why you are here right?
Even so, if the Niche Zero does not quite fit your budget yet, you should certainly consider saving up for one.
This grinder is perfect for those who want to experiment with all types of coffee while using all kinds of different specialty coffee beans.
It will improve your skills as a coffee brewer and enthusiast, as well as bringing excitement and passion into what you are doing.
Niche Zero Vs Other Coffee Grinder Brands
Niche Zero Vs Baratza Sette 270wi
| | | |
| --- | --- | --- |
| Niche Zero | Vs | Sette 270wi |
| Approx. £499 | | Approx. £550 |
| Less Clumping | | More Clumping |
| No built in scale | | Built in scale |
Niche Zero Vs Sage Smart Grinder Pro
| | | |
| --- | --- | --- |
| Niche Zero | Vs | Smart Grinder Pro |
| Approx. £499 | | Approx. £199 |
| Able to experiment | | Less Experimenting |
| Very capable espresso grinder | | Harder to dial in espresso |
Niche Zero Vs Eureka Mignon
| | | |
| --- | --- | --- |
| Niche Zero | Vs | Eureka Mignon |
| Approx. £499 | | Approx. £200 – £400 |
| Zero retention | | 1.3g retention |
| No Hopper | | 300g Hopper |
Niche Zero Vs Mazzer Mini On Demand
| | | |
| --- | --- | --- |
| Niche Zero | Vs | Mazzer Mini |
| Approx. £499 | | Approx. £600 |
| Height: 12 inch | | Height: 18 inch |
| Conical Burr | | Flat Burr |
Who is the Niche Zero Grinder For?

In this paragraph, I am going to discuss if the Niche Grinder is for you.
Firstly, as far as coffee grinders go, you generally have them designed for either at home domestic use, or commercial use for coffee shops and cafes.
Domestic use coffee grinders are generally a lot cheaper, but can come with a lower quality product, whereas commercial grinders are generally much more expensive but not designed for the typical at home kitchen.
Well the Niche Zero does both.
It is the first coffee grinder to meet in the middle, and therefore, giving you the best of both domestic and commercial uses.
This grinder would be perfect for people who want high quality grinding at home coffee, as well as those who may have a small coffee shop.
Finally, it is perfect for a wide variety of specialty coffee beverages, especially those who love filter and espresso coffee, and are constantly playing around with different single origin coffees.
How do you calibrate a Niche Zero Grinder?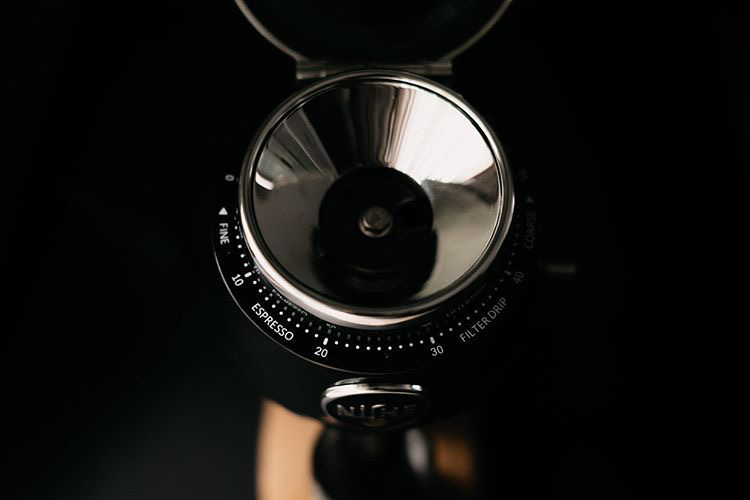 To calibrate your Niche Zero coffee grinder you need to turn the bean funnel clockwise until it is finger tight.
You will see there is a shiny little dot on the side of the funnel.
Make sure that this dot matches up with the calibration mark which is at the top right of the grind adjustment titled 'calibrate'.
If the dot does not match up, you will then need to turn the smaller collar to make even smaller adjustments until the dot is at calibration.
Once this is matched up, the grinder has been calibrated and you can then turn the funnel anti-clockwise back to your chosen grind adjustment setting, depending on the type of coffee you will be brewing.
What is the NFC Disc? 
One of our favourite improvements the Niche Zero grinder has over its first generation grinders, and many other electric coffee grinders out there, is the Niche Flow Control Disc, also known as the NFC Disc.
This disc is a small 40mm clear disc which is made out of food grade polycarbonate.
The reason this has been installed and is such an awesome feature to have is that it will prevent the annoying 'pop-corning' affect.
What we mean here is when the small disc is installed into the bean funnel, coffee beans are prevented from jumping around the funnel prior to being fully fed into the burrs when operating the grinder.
This is so important as not only does it speed the grinding process up, but most importantly, the disc feeds beans into the burrs at a steady pace, and therefore, your grind consistency is improved.
Therefore, helping you produce a much higher quality coffee brew that some cheaper grinders simply cannot do.
What type of Grinder does the Niche Zero Grinder Have?
Niche Coffee have decided to install a conical burr grinder into their Niche Zero Coffee Grinder.
With burr grinders, coffee beans are ground through pressure as they pass between two burrs.
The grinding will happen vertically, and when the centre burr is spinning, the sharp edges will pull the coffee beans down, breaking them up into the smaller desired pieces.
Due to the vertical shape of the burrs, it will allow for a consistent and high standard of grind size control.

These particular grinders are also perfectly matched for coffee grinders that have a lower rpm in order to provide the user with a quiet coffee grinder, and without overheating.
"Picture a cupcake wrapper without the base, and you're pretty much there. The inside burr is conical with a larger base"

Ivan Laranjeira Petrich, writer at Perfect Daily Grind.
Overall a decent burr grinder has been installed into the Niche Zero grinder, even if you are one who generally prefers flat burr grinders.
How to clean the Niche Zero Grinder?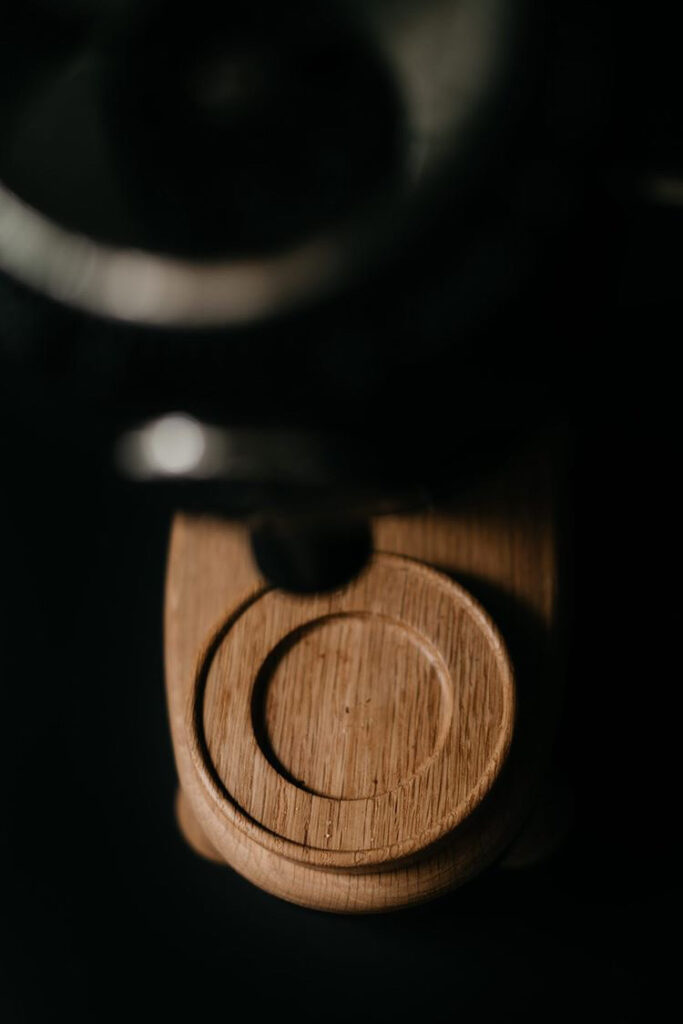 Conveniently the Niche Zero coffee grinder comes with a purpose built cleaning brush and a 10mm spanner tool.
Therefore, in order to begin the cleaning process, you will first need to remove the burr nut located in the middle of the coffee funnel with the provided spanner tool.
You then need to remove the NFC disc, and then unscrew the adjustable collar to remove it completely from the grinder.
This will then give you access to lift out the burr housing where you can start removing the burr to clean with the provided cleaning brush.
Finally you can remove the blade to brush down and clean, and you will now also be able to clean out the housing, again using the provided cleaning brush and pushing the grinds to the front.
Once you have cleaned out the housing and all the parts you have removed, you will then need to rebuild the grinder correctly.
Be sure to watch the clip below to help you with the entire process.
Pros and Cons
Obviously not everything is perfect, so we have listed some of the main pros and cons that stood out to us the most.
We have highlighted these in the below table.
Niche Zero F.A.Q's

Q: What countries does Niche Coffee ship to?
A: Currently they ship to 6 countries, including the United Kingdom, Europe, Norway, Switzerland, Australia, and USA.
Q: Can you easily access the burrs for cleaning the Niche Zero?
A: It is easy to access the burrs by simply unscrewing and removing the top bean funnel
Q: Is your grind setting lost when cleaning the burr set on the Niche Zero?
A: You can keep your grind setting when cleaning. 

Simply note where the grind dial is set, unscrew and remove the bean funnel, clean the burrs and grind chamber. 

Replace the bean funnel and screw clockwise until finger tight, then unscrew the bean funnel anti-clockwise back by about half a turn to your original set point.
Q: What is the max weight of beans the Niche Zero Grinder will grind?

A: The Niche Zero Grinder's bean funnel can hold and grind 50g of coffee beans into the grind cup.
Conclusion: Niche Zero Grinder Ultimate Review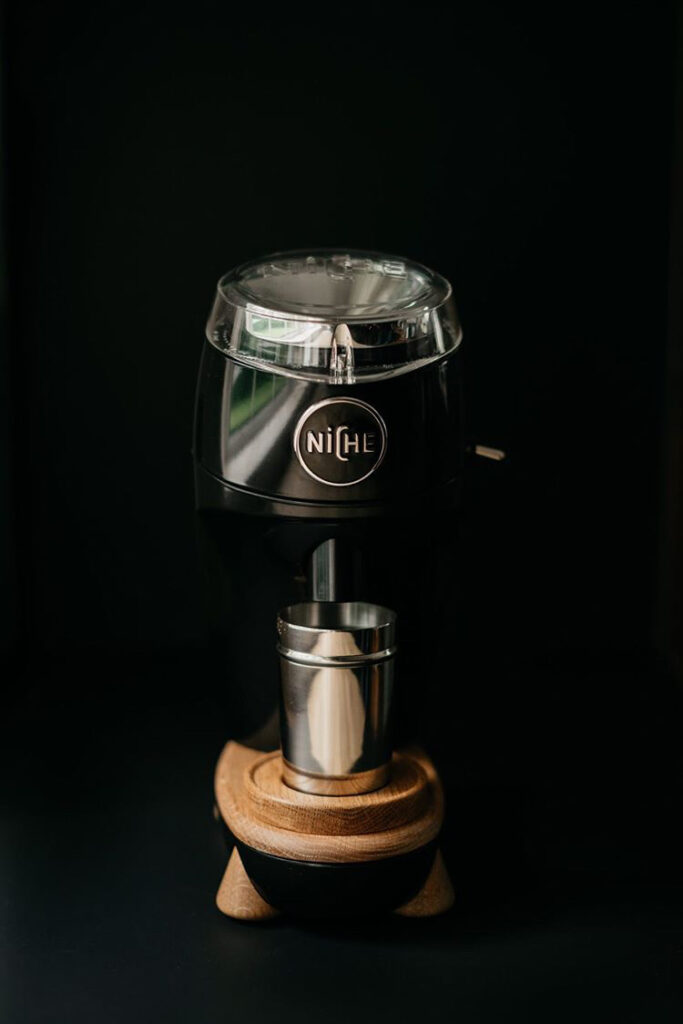 Overall the Niche Zero coffee grinder was a pleasure to use and has started to grab the attention from coffee enthusiasts from around the world.
It has been considered as a commercial grade grinder, in terms of the build quality, and the quality of the components used.
Of course the grinder isn't perfect, however, we were very impressed with the grinder itself considering they are a first time manufacturer, and ultimately it is all about getting out what you put in.
Remember, when it comes to making consistently great high quality coffee, you are going to get what you pay for. 
So absolutely we would recommend considering the Niche Zero coffee grinder to be added to your own collection, regardless if you are a beginner or an expert.
If you enjoyed this article, read more like this by checking out our Specialty Coffee Buyers Guides.