An iconic piece of brewing equipment in the Specialty Coffee industry, the Chemex coffee maker has been seen all over the world, with its stylish design and easy to use brewing methods.
So why is this brewing used all over the world with Specialty Coffee enthusiasts? 
What is a chemex coffee maker? A chemex coffee maker is  a simple pour-over brewing method renowned for its sleek design and clean cup of specialty coffee.
This article, we are going to explain what the chemex coffee maker is and walk you through the ultimate brewing guide to save you time and money.
In a hurry? Check out the latest Chemex Coffee Maker prices over on Amazon.
What is a Chemex?
Invented in 1941, the chemex coffee maker consists of an hour shaped glass flask with a funnel like neck.
Brewing a clean cup, body maintained and well balanced Specialty Coffee, which today is known to be one of the best designed products of modern times.
There is a large debate and many different opinions on what the best Specialty Coffee making style is, the Chemex really does have an edge, and can come up with a good brew compared to many coffee making alternatives.
Chemex coffee maker is a type of pour-over system which is an hourglass shaped vessel, and uses a specially designed filter. 
Although many people are unfamiliar with the term Chemex, the Chemex brand has been around since 1941, and is actually one of the older brewing methods in the coffee industry.
Since the early 2000's, the Chemex has re-gained in its popularity and can be found in coffee shops all over the world.
Coffee brewed from a Chemex is considered to be one of the best, due to its unique filters and unique all glass shaped design. 
It will provide you with a clean bright tasting coffee, with a smoother cup and less bitterness that some other brewing methods have. 
You can quickly find the Chemex Coffee Maker over on Amazon in a variety of different sizes with two different handle options, and is very easy to use for both the beginner and advanced brewers.
There are four models of Chemex, 3 cup, 6 cup, 8 cup, and 10 cup.

Why Do You Use a Chemex? (and who is it best suited for)
The Chemex coffee maker is a perfect addition to your Specialty Coffee brewing arsenal. It is especially good to have if you are a manual brewer and are continually experimenting with your brewing methods.
It is best suited for those who already own some basic Specialty Coffee brewing accessories, as the Chemex does require items like a digital scale and electric kettle to get that perfect brew.
However, these are generally items most people have in their kitchen household already.
If you enjoy, or are looking to make a clean, bright and characterized Specialty coffee brew, then the Chemex coffee maker is going to be a very well suited option for you.  
Also, the Chemex is pretty inexpensive to buy, so coffee enthusiasts generally like to include a Chemex into their Specialty coffee brewing collections. 
Plus they look awesome, and a lot of people also like to put their Chemex on display.
We recommend getting yourself a Blue Horse Chemex Caddy which you can find over on Amazon, to look after your Chemex coffee maker.
How do you Use a Chemex? (step by step guide)
With this easy step by step guide on how to use a Chemex, you will be brewing top quality Specialty brews in no time.
The Method: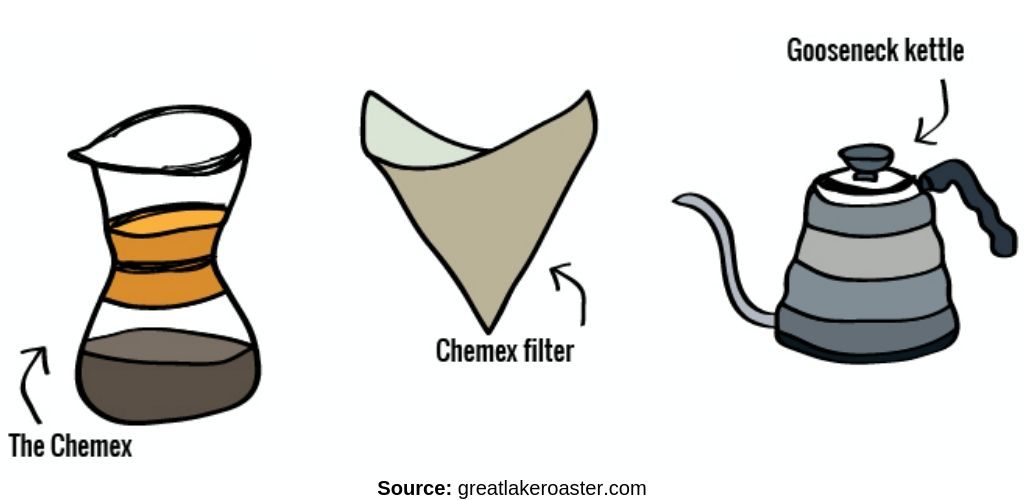 1. Prep and Rinse Filter
Place your filter so that three layers cover the Chemex spout. Preheat your Chemex and filter with hot water, while at the same time rinsing your paper Chemex filter. Discard this water once done.
2. Grind and Add Coffee
Grind your coffee so you have about 3-4 tablespoons of course grind to add into your Chemex where your filter is place. Centre the coffee in your brewer and zero out your scales.
3. Wet the Grounds
Start your timer and start to add hot water, until all of the grounds are wet, approximately 150 grams.. Gentle stir to ensure there are no dry clumps with your stirrer. Leave for about 30 seconds.
4. Add more Hot Water
45 seconds in, start your second main pour. Do this in a slow circular movement until the volume reaches about a finger tip from the top of the Chemex rim, approximately 450 grams. 
Allow water to lower and then add the remaining water, approximately 700 grams.   
5. Let it Brew
Allow the coffee to drain through the filter, which should be about 4 minutes. 
Then lift the filter carefully out of the Chemex, allowing it to hover if you need a little more volume, otherwise completely taking it out and placing in the bin, or sink if you are going to reuse the grind for other purposes. 
Read: What Eco-friendly things you can do with leftover Specialty Coffee
Step 6. Enjoy 
Swirl around the Chemex a little and serve up a quality Specialty Coffee brew with the Chemex.
Chemex Coffee Maker Brewing Tips
Purchase a burr grinder for uniformed grinds (avoid over extracted bitterness).
Coursen the grind if brewing method takes longer then 4-5 minutes.
Ensure a water temperature of approximately 200 degrees by leaving the kettle for a minute after it comes to boil. (avoid burning grounds or under extraction).
Try to wet your filter before brewing.
Use the correct water to coffee ratio.
Have a good quality Specialty Coffee whole bean.
What is the Best Size Chemex?
Ok, so now you need to know what is the best size Chemex for you to start brewing with? For us, the 6 and 8 cup is an ideal size.
6-8 cup is perfect for brewing yourself a Specialty Coffee, while at the same time is perfect if you are brewing up a cup for 2 or 3 people at a time, and can easily be stored away when not in use.
Chemex by the Numbers
| | | | | |
| --- | --- | --- | --- | --- |
| Size | 3 Cup | 6 Cup | 8 Cup | 10 Cup |
| Amount Full | 15oz / .4Liter | 30oz / .9Liter | 40oz / 1.2L | 50oz / 1.5L |
| Amount at button (half full)  | 7.5oz / .2L | 15oz / .4L | 20oz / .6L | 25oz / .7L |
| Number of 12oz Mugs | 1 (approx.) | 2 1/2 (approx.) | 3 1/3 (approx.) | 4 (approx.) |
Source: intowncoffee.com
There are both wooden and glass handle Chemex Coffee Makers. Which is better? It all comes down to personal preferences, both will brew the same coffee.
Wooden handles are generally seen as a better looking design, and can go really well on display in your kitchen, while glass handles are much easier when it comes to cleaning, as you do not need to un tie and take the handle off.
You can buy a Chemex from several places, however, we found that Amazon is the best place to buy your Chemex from, with the best prices available too. 
Your local Specialty coffee shop is also an idea, however, you will generally find yourself with a higher retail price to pay. 
First time buying a Chemex? Check out a few ideas below;
At a glance;
This Chemex delivers the purest flavour experience.
Made of non-porous Borosilicate glass which will not absorb odours or chemical residues.
Woodneck Chemex pour-over allows coffee to be covered and refrigerated for reheating without losing flavour.
Simple, easy to use with timeless, elegant design.
At a glance;
The same wonderful brewing experience that you know and love from Chemex but this coffee maker is made of beautiful hand blown glass, therefore, slightly thicker than the classic models.
Hand Blown Glass Chemex has a wood collar and tie, and made of non-porous borosilicate glass which will not absorb odors or chemical residues.
Holds 5 cup capacity.
Like all good things, full flavour takes time — and your own special touch. The Chemex Coffeemaker delivers only the elements essential to rich coffee flavour, so that your personal taste and approach shine through.
What Coffee Can You Use For Chemex Coffee Maker?

At coffeekiwi.com, we are all about our Specialty Coffee. To ensure you a brewing the best coffee with a Chemex, then hands down Specialty Coffee is what you need to use.
Read: What is Specialty Coffee and the Processes of making it
Don't have any Specialty Coffee? With the fast growing popularity of the Specialty Coffee industry, you will find a variety of options, we have highlighted a few of these below:
At a Glance;
Premium Coffee
Tasting Notes 
Multiple Brew Options
Fresh Single Origin Coffee Beans
Gas Flushed Packaging
Their efforts in sourcing with strict standards from the world's top coffee growing regions and high elevations, only makes the finest coffee bean qualified for production. 
But it doesn't stop there; The beans are carefully inspected prior to and after the roasting process to ensure the coffee maintains a high-quality grade with a cupping score above 80+. 
A rigorous process requires hard work, precision, and a passion for coffee which they are dedicated to. So with every sip, you can experience an authentic taste of Luicana Coffee.
Luicana coffee can be brewed and prepared using different methods, including French press coffee, Aeropress coffee, filter coffee, pour over, and cold brewed.
At a Glance;
Single Origin Peruvian Coffee bean
Multiple Brew Options
Fair trade and Organic
Great Taste Award 2018 winner
A brand featured in previous articles, Coffee Masters is an independent, wholesale coffee company based in the heart of Worcestershire.
Winner of the prestigious great taste award in 2018, this Peruvian single origin lives up to expectations. A clean, well-balanced coffee with a citrus like acidity and a crisp finish.
They source their beans from around the world and pride themselves on their unique blends. 
Whether you want a rich full-bodied espresso with an indulgent dark chocolate finish or something sweet, nutty & fruity, they will have a blend that is right for you.
At a Glance;
100% Pure Kona Coffee
One of the Highest Grade Beans
Fair trade and Organic
Mountain Grown on a Single Estate
100% PURE KONA COFFEE – Although some brands claim to be Kona, they often contain as little as 10% of real Kona beans mixed with those of a lower grade.
These beans are 100% authentic and meticulously cultivated in the Kona district on the Big Island, which has the perfect microclimate for growing coffee beans.
HIGHEST GRADE BEANS – Their Medium/Dark Roast Whole Beans are rated Extra Fancy by the Hawaii Agricultural Society, the highest grade possible. 
Rating based on the size, shape, moisture content, and defect ratio of the beans.
A BETTER CUP OF COFFEE – All-natural Kona Gold Coffee Beans are hand-picked, wet-method processed, sun-dried, and air roasted. This process ensures a clean-tasting and highly aromatic cup of coffee. 
Their full city roast (medium/dark roast) combines crisp, fruity notes with creamy tones of molasses and brown sugar for a simply remarkable cup of coffee.
MOUNTAIN GROWN ON A SINGLE ESTATE – An independently-owned farm is the sole source of beans for the Kona Gold full city roast. 
Grown in the shade of both Macadamia Nut and Ohia trees, these premium Arabica coffee beans yield a deliciously rich coffee like no other.
What Water Ratio For Chemex Coffee Maker?
If you are a beginner with Chemex brewing methods, we would recommend starting with a 1:15 coffee to water ratio. 
In other words, for every 1 gram of coffee, add 15 grams of water, which converts to about 3 tablespoon of coffee for every 1 cup of water. Experiment from there to find the perfect ratio for you.

What Grind Size For Chemex Coffee Maker?
You may have read and/or heard that some prefer a coarse grind, while others prefer a fine grind.
We feel it all comes down to personal preference, what works for you may not for others, what taste good to you, may not for others.
The grind size can also come down to your serving sizes, however, generally speaking, if you are unsure where to start, then with a 3 cup Chemex, try a finer grind.
If you are using an 8 cup or larger Chemex then try a coarse grind, similar to that as a French Press grind.
Read: Brewing Specialty Coffee with a French Press (how to guide)
Ultimately, if your coffee brews too fast and taste weak, then you will need to use a finer grind, however, if your coffee gets clogged and is not filtering through, then use a coarser grind. Your brew should be about 4 minutes long.
And do not forget the most important part, you need to ensure you are using a quality burr grinder to have consistent grinds.
You will never be able to get your brew right and it will be hard to adjust to your personal preference every time you brew with your Chemex.    
Need a Burr Grinder? We suggest something like the Hunt's Brother's Coffee Grinder which you can find over on Amazon.
What is the Difference Between Chemex Coffee Maker and Drip Coffee?
A question we get asked all the time, what is the difference between Chemex and Drip Coffee? 
Yes the Chemex does brew coffee using the infusion method which is similar to other drip coffee methods, however the big difference is the filters used with the Chemex.
Chemex filters are about 25% thicker than drip coffee filters, which helps regulate the flow of coffee while removing much of the coffee's oils and body.
Resulting in the water flowing through much slower and therefore, many suggesting a better flavour develops.

Can You Use The Chemex Without Digital Scales?
Another question that we seem to get asked regularly, and even though we recommend that you should use scales when brewing with a Chemex, in short you can get away without the scales.
The Chemex brew will however be very hard to get precise and overall could hinder your finished brew. 
By using scales, it will allow you to measure your coffee and water amounts, therefore, actually saving you time.
Also if you are a beginner with Chemex brewing methods then scales will definitely be missed. 
Overall, if you are into your Specialty Coffee and brewing, then digital scales are a perfect investment as you can use these with many other brewing methods such as the Hario V60. 
You can find a perfect set of scales like the Coffee Gator Digital Scale with Timer which we found over on Amazon, however, have a little search around as Amazon has many options available for all budgets.
Chemex Vs Aeropress
You have probably heard of the Aeropress right? Another iconic method of Specialty Coffee brewing, however, do not get confused, this brewing method is very different from the Chemex.
So what is better, the Chemex or the Aeropress?
Firstly, both of these these are manual brewing methods, meaning you can use this specialty coffee making method at home, while always customising as you go. 
Whether that's the beans you use or the grind size you make, you can forever change it up and experiment.
Secondly, the taste. We love the taste from both brewing methods, however, it is important to note that the Chemex and Aeropress share very different taste from each other, all due to the extraction time and brewing techniques.
When using the Aeropress, it requires pressure, rather than dripping through.
Therefore, the Aeropress generally results in a stronger more bold espresso brew, where as the Chemex will create brews a much more crisp and rich brew. 
So our final thoughts? Well both brewing methods are just as good as each other in their own little ways, we would recommend brewing Specialty Coffee with both methods.
If you are looking for that clean brew, then both methods are going to provide you that, however, if you are someone on the go, or always travelling, then the Aeropress is much more portable compared to the glass Chemex.
Or if you need a stronger Specialty brew, then go with the Aeropress, or if you need a richer and more complex Specialty brew, then the Chemex is your go to.
Check out: How to Brew Specialty Coffee with an Aeropress (both ways)
How to Clean Chemex?
Surprisingly for some, the Chemex can actually be relatively difficult to clean, however, due to its design and all glass construction, you can actually give it a pretty good clean by just using hot soapy water.
We recommend doing this sooner rather than later after making a brew.
Because as the coffee oils, when left for a period of time can actually then become difficult to clean off, and may require a scrub, which is when cleaning a Chemex becomes more difficult than it needs to be.
When you are in a rush or just feeling a little lazy, then the Chemex is also dishwasher safe, just ensure you remove its handle and store safely in the dishwasher as glass can break.

Conclusion: What is the chemex coffee maker
Overall the Chemex coffee maker is highly recommended to all types of coffee brewers, and is a great accessory to have at home to change up your Specialty Coffee brewing methods and skills.
With the added help of a kettle and digital scales, you will be brewing up a quality intricate cup of Specialty Coffee, all from the comfort of your home.
So you are looking to make a good cup of Specialty coffee? Then the Chemex will deliver. What are you waiting for? Do you have a Chemex Coffee Maker?